Economic Scan - Nova Scotia: 2023
Demographics
Highlights
Seniors (65 years and older) are projected to comprise 26.1% of the population by 2032, up from 21.8% in 2022.
In 2022, older workers (55 years and older) made up 42.7% of the working age population. Over the next decade, this proportion is expected to increase to 43.5%.
Between 2022 and 2032, the youth (15 to 29 years of age) population share is projected to decline from 18.5% to 17.0%.
The average of the Indigenous population in Nova Scotia is 37 years, compared to 44.3 for the non-Indigenous population.
The Indigenous population accounted for 5.5% of Nova Scotia's total population at the time of the 2021 Census, and made up 5.1% of the provincial labour force.
Despite comprising 2.6% of the national population, at the time of the 2021 Census of Population Nova Scotia was home to just 1.6% of recent immigrants (those who arrived between the 2016 and 2021 Censuses). The province's share of immigrants has trended higher in recent years, however. Between January 1, 2022 and January 1, 2023, Nova Scotia accounted for 2.9% of the country's new permanent residents. The province also tends to have a high number of temporary residents such as international students due to its relatively large postsecondary education sector.
The official language minority community makes up 2.9% of Nova Scotia's total population. While the largest number of individuals with French as their first official language spoken live in Halifax, the official language minority community is also concentrated in historic Acadian communities in Cape Breton and the Southwest Nova Scotia.
According to the 2017 Canadian Survey on Disability, persons with disabilities comprise 30.4% of the provincial population– the highest rate in the country. Among those aged 25 to 64, persons with disabilities have a substantially lower rate of labour force participation at 62.2%, compared to 84.5% for those without disabilities. Further, there is a slightly higher unemployment rate for persons with disabilities (6.8% vs. 5.7%).
---
Labour Market Conditions
In 2022...
increase
Employment increased strongly (3.6%)
decrease
Unemployment decreased substantially (-23.0%)
decrease
Participation rate edged downward (62.3% to 61.7%)
increase
Employment rate went up (57.0% to 57.7%)
Province's Unemployment Rate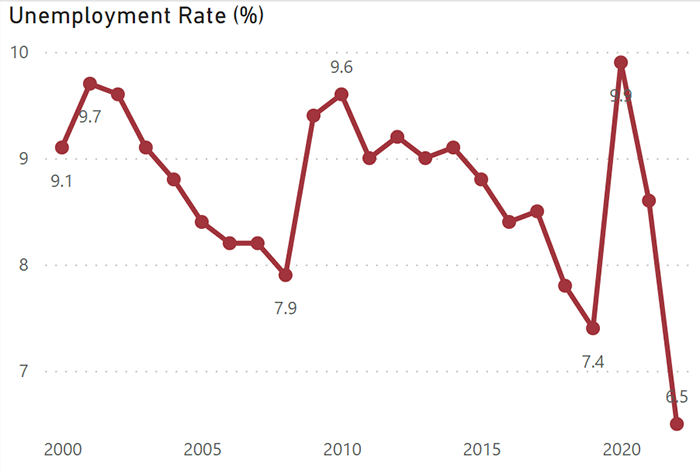 Show data table

: Province' Unemployment Rate

Province's Unemployment Rate

| | Unemployment Rate (%) |
| --- | --- |
| 2000 | 9.1 |
| 2001 | 9.7 |
| 2002 | 9.6 |
| 2003 | 9.1 |
| 2004 | 8.8 |
| 2005 | 8.4 |
| 2006 | 8.2 |
| 2007 | 8.2 |
| 2008 | 7.9 |
| 2009 | 9.4 |
| 2010 | 9.6 |
| 2011 | 9.0 |
| 2012 | 9.2 |
| 2013 | 9.0 |
| 2014 | 9.1 |
| 2015 | 8.8 |
| 2016 | 8.4 |
| 2017 | 8.5 |
| 2018 | 7.8 |
| 2019 | 7.4 |
| 2021 | 9.9 |
| 2021 | 8.6 |
| 2022 | 6.5 |
While employment has increased to record levels in the wake of pandemic containment measures, job growth is expected to slow to 0.7% in 2023 and 0.8% in 2024 as economic conditions cool within Nova Scotia and among most of its trade partners.
Recent employment growth has driven the unemployment rate to historic lows. However, sustained in-migration paired with slower job gains is expected to create some slack in the labour market and push the unemployment rate up to 7.3% in 2023 and 7.7% in 2024.
The aging population has weighed on the supply of labour during a period of robust job growth. As a result, the job vacancy rate in Nova Scotia has risen from pre-pandemic levels of 2%-3% to approximately 5% in 2022.
---
Economic Conditions
Province 's Economic Drivers in 2020

Rebound from COVID-19 pandemic

High levels of in-migration

Increased government spending
GDP Growth Rate in province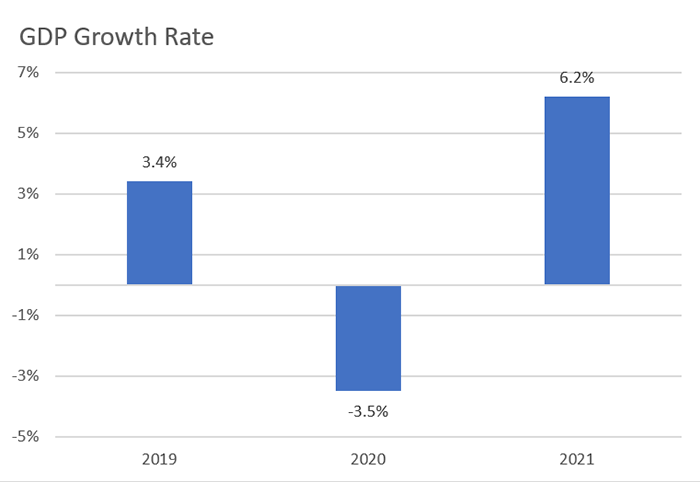 Show data table

: GDP Growth Rate in Province

GDP Growth Rate in Province

| Year | GDP growth rate |
| --- | --- |
| 2019 | 3.4% |
| 2020 | -3.5% |
| 2021 | 6.2% |
The rate of GDP growth in Nova Scotia reflects the waning rebound from pandemic containment measures as well as global economic headwinds. The provincial economy is expected to have expanded by 2.9% in 2022, but growth is projected to slow to 0.7% in 2023 amid high–albeit slowing–inflation and elevated interest rates.
Robust growth in the wake of pandemic containment measures has been supported by a large influx of immigrants and interprovincial migrants. Population growth has boosted consumer spending and residential construction activity.
Provincial government spending jumped by more than 14% in the 2022-23 fiscal year as revenues exceeded estimates by more than $1.6B. Further, the province's capital plan projects $1.6B in spending as major highway and healthcare infrastructure projects progress.
Risks to the Provincial Economy in 2023
Inflation, and the fiscal tightening implemented by the central bank in response, remain primary factors in the province's slowing economic growth. Income growth has trailed inflation as it reached 40-year-highs, eroding the purchasing power of consumers. Higher interest rates have further cooled consumer spending and are expected to weigh on residential construction in spite of high demand. Many of Nova Scotia's trading partners face similar challenges, which is expected to result in weaker demand for the province's exports.
While an influx of migrants under the age of 40 in recent years has helped to offset the long-term trend of an aging population, Nova Scotia remains dependent on continued in-migration to maintain a healthy demographic profile, growing employment, and an adequate tax base to support increasing demand for health care. The large baby boomer generation continues to pass the age of 65 and exit the labour force in droves, and the province has had a negative rate of natural increase (i.e. deaths exceed births) for several years. Recent changes to immigration policy are expected to result in higher immigration levels than before the COVID-19 pandemic. However, the rapid population growth of 2021 and 2022 is expected to slow as pandemic-related immigration backlogs clear and motivating factors behind the recent increase in interprovincial in-migration (such as relatively affordable housing and the prevalence of remote work) soften.
---
Regional Issues
Like the rest of the country, Nova Scotia has experienced a substantial increase in the number of job vacancies during the past two years. While the tight labour market represents improved prospects for jobseekers, many businesses have reported that the shortage of labour–at a variety of skill levels–has hampered growth and even normal operations. For example, a shortage of applicants in the food services industry has resulted in many restaurants reducing their operating hours. Staffing challenges have also been compounded by illness; in 2022, the number of work hours lost due to illness-related absences was 34% higher than before the pandemic.
The availability and affordability of housing in Nova Scotia have worsened substantially during the past three years, and have the potential to affect the labour market and broader economy in multiple ways. Some employers have reported an inability to hire skilled international job candidates due to an inability to find housing; similarly, the provincial government has had to invest in modular housing units to house healthcare workers. Further, higher housing costs risk crowding out consumer spending while rising household debt associated with larger mortgages can result in homeowners being more sensitive to interest rate increases.
---
Industry Trends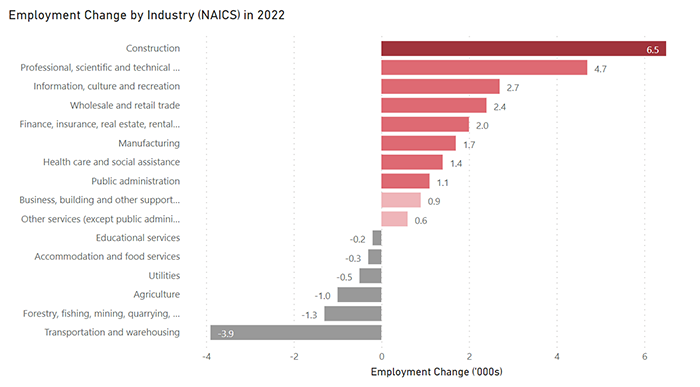 Show data table

Employment Change by Industry (NAICS) in 2022 ('000s)

| | |
| --- | --- |
| Industry (NAICS) | Employment Change ('000s) |
| Construction | 6.5 |
| Professional, scientific and technical services | 4.7 |
| Information, culture and recreation | 2.7 |
| Wholesale and retail trade | 2.4 |
| Finance, insurance, real estate, rental and leasing | 2.0 |
| Manufacturing | 1.7 |
| Health care and social assistance | 1.4 |
| Public administration | 1.1 |
| Business, building and other support services | 0.9 |
| Other services (except puplic administration) | 0.6 |
| Educational services | -0.2 |
| Accommodation and food services | -0.3 |
| Utilities | -0.5 |
| Agriculture | -1.0 |
| Forestry, fishing, mining, quarrying, oil and gas | -1.3 |
| Transportation and warehousing | -3.9 |
The construction industry led job growth in 2022, adding 6,500 workers (+18.2%). Employment in this industry has risen by more than 25% since 2019, reflecting the high levels of residential housing construction and provincial capital spending.
The professional, scientific, and technical services industry has also been a bright spot in recent years, adding 4,700 workers in 2022 (+14.3%) and more than 10,000 since before the pandemic. Growth has been driven in part by the IT sector in Halifax, though monthly data suggest that the rapid rate of expansion has cooled somewhat in recent months.
Employment remains below pre-pandemic levels in industries that were hit hard by COVID-19 containment measures. Accommodation and food services employed 6,300 fewer workers in 2022 than in 2019, despite the rate of job vacancies surpassing 10% in some quarters. The retail trade and information, culture, and recreation industries have partially recovered, but employment in 2022 remained well below 2019 levels.
---
Regional Economic Conditions
All economic regions experienced employment growth in 2022 with the exception of the North Shore, which declined by 4.2%.
High rates of employment growth in Cape Breton, the Annapolis Valley, and Halifax outpaced the increase in the supply of labour, which caused unemployment rates in those regions to fall by 2 to 3 percentage points.
In-migration boosted the number of prime working age individuals (25-54 years of age) in all economic regions, though newcomers and interprovincial migrants disproportionately settled in Halifax.

Show data table

The province employment change ('000s)

| | |
| --- | --- |
| | Employment Change ('000s) |
| Nova Scotia | 16.8 |
| Halifax | 11.6 |
| Annapolis Valley | 4.3 |
| Cape Breton | 3.3 |
| Southern | 0.4 |
| North Shore | -2.9 |